Tricks To Look Skinnier In Jeans
Tricks To Look Skinnier In Jeans
You can't always hit your goal weight, but you can still look slenderer in jeans effortlessly. If you want to learn how to determine the perfect pair of jeans that will make you look like you've instantly lost weight, read more on our figure-enhancing and time-saving guide to look skinnier in jeans.
Choose A Dark Wash Jeans
Well-fitting dark wash jeans are not only slenderizing but also versatile for wearing with both casual and dressy tops.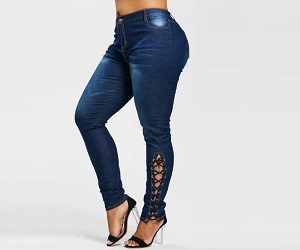 Yes To A Higher Rise
High-rise jeans, when worn properly, can make you look instantly skinnier as it elongates the lower body.
Always pay special attention to length. An inch or two below your ankle of dark wash jeans will elongate your body.
Shop For A Perfect Fit
For a skinnier look in jeans, check the garment label for the spandex count.
Don't Forget To Check Your Rear View
Pay attention to the back pocket construction if the way your butt looks in jeans concerns you.
Wear The Right Shoes
The right pair of shoes can also elongate your legs right down to your toes.
Upgrade To Higher-Quality Jeans
It does not only last longer but fit a woman's body better too, and can help you get that slender look in jeans that you desire.
Use Color To Minimize Problem Areas
Don't just pay attention to your jeans but to your entire outfit. You can play down larger body areas and pull attention to your best assets by playing with color in your outfit.
Online shopping with best prices offered at Rosegal.com
Rosegal is an online shopping store that also sells wide variety of fashion clothing and accessories for all sizes of women like curvy and plus sized. Visit Rosegal.com page for on-going special promotions they offer in their page.
Tags :
Rosegal