Adorable Swimsuits Brands For Babies and Toddlers
A brand-new adorable bathing suit is needed when your little one has graduated from swim diapers, a. Think about bikini/rash guard and board short combos, snap-and-zip onesies, and halter tops for your little one. And while it is an essential factor to always include sun protection in the equation, it sure doesn't hurt when your toddler's toys are as adorable and fun-loving as these. Below are the best adorable swimsuits brands for babies you can buy for your babies.
Originally designed in New Zealand, Snapper Rock's swimsuits are designed for an extraordinary high-tech UPF 50-plus fabric to keep your little one protected. The breathable and lightweight fabrics of these suits are suitable for on-the-run toddlers; they stretch and flex as your little one runs along the beach.
The ever-popular iPlay brand allows you to choose from various styles that feature built-in swimming suits covered with adorable bottoms for the girls and swimming trunks for the boys. The iPlay brand also offers one-piece sunsuits that better provide additional coverage from the sun's harmful rays.
The actual ruffles adorning the bums of this cute line are sure to lure you over to the RuffleButts side of both baby and toddler swimming life. There's RuffleButts for little girls and RuggedButts for boys. Both give conventional swimsuit designs as well as swim trunks/bottoms and rash guard combos that present a little bit more protection from the sun.
Adorable one-pieces for girls, swimming trunks for boys, and lots of rash guards and hooded cover-ups for everyone are just a glimpse of the Mud Pie collection of kids' swimwear. Motifs include things like sharks, cacti, mermaids, and flamingoes, covering all the bases for your fantasy-loving and adventuristic little ones.
The Simple Joys by Carter's both baby and toddler swimsuit line comes in boy and girl styles. For boys, you can get a rash guard and swimming trunks combo, while for the girls, a one-piece or two-piece with rash guard option. Both come in adorable patterns and bright colors.

If your kid's the type that would enjoy spending hours out in the sun at the pool or on the beach, you'll love the many complete-coverage designs of SwimZip brand.  Most of their styles are produced from fabrics with built-in UPF 50-plus protection to help prevent those harmful UV rays at bay.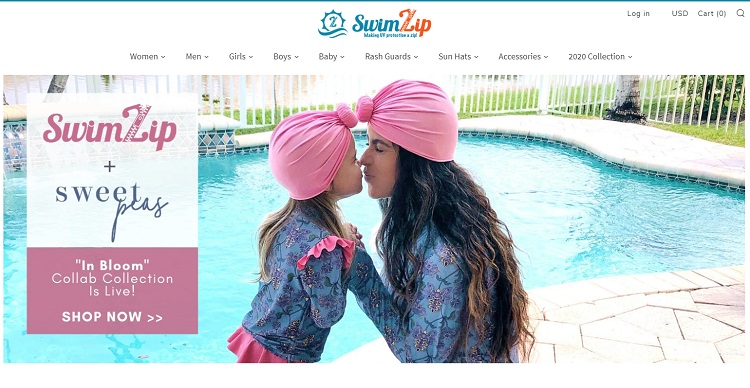 Carter's has you covered your little one's clothing needs, and that reigns for swimsuits as well! Many of the girls' swimsuits have built-in rash guards, and there are lots of matching rash guards as well. There's even an infant onesie rash guard, specially made with UPF 50+ fabric, making sure that your baby is safe during a day at the pool or beach!
PatPat.com makes outfitting your kids easy and fun!
Patpat is a shopping platform for moms to find great deals for themselves and their families, without spending a lot of time and money. And picking the right clothing for babies and kids at Patpat.com is very easy because they are made to be seasonable and comfortable for them.  Simply, they offer a large assortment of cute, quality clothes at great prices so that families all around the world can have more joyful moments. Visit Patpat.com for special discounts for your kids & babies clothing needs.
Tags :
PatPat